Every time I see or think or hear of the Audi A3, let alone the S3,  I kind of go on this mental trip of confusion.
The car seems to be in such an interesting place not only in Audi's hierarchy but in the automotive world as a whole.
It's Audi's entry-level offering but it's even more entry-level than most other offerings of the same category.  It's smaller and cheaper than most examples.
No other automaker has really jumped on the same kind of category that the A3 is in.
Mercedes-Benz has their CLA, but that's a "four-door coupe".  It is longer than the A3 and has a more coupe-like shape to it, rather than the sedan silhouette that the A3.
BMW has the 2 Series, but that car is a pure coupe and not directly comparable to the A3.
The A3 is basically the size of a Chevrolet Cruze but of a higher quality.  Like I said, it's interesting.
Even more interesting is the Audi S3.  This car is small, light and powerful.  There really isn't anything like it out there.
To me, the A3 makes much more sense in Europe where it has been a hot-hatch.  In the U.S., it's a very small luxury sedan (almost) that again, has hardly a competitor in sight.
It's closest rival is the Golf R which it is mechanically related to, but one is a VW and one is an Audi.  Different planets all together…Right?
The Specs – 2018 Audi S3:
| | |
| --- | --- |
| Vehicle Type: |  Compact Luxury Sedan |
| Powertrain: |  2.0 L I-4 T |
| Gearbox: | 7-speed automatic DSG |
| Power: | 292 HP  |
| MPG: | 28 Highway / 22 City |
| Torque: |  280 Lb-Ft. |
| Length: | 176 Inches |
| Width: | 71 Inches |
| Height: | 55 Inches |
| Top Speed: | 150 MPH (241.4 KPH) EST. |
| Seating: |  5 |
| Wheelbase: | 103.6 Inches |
| 0-60 MPH (0-120 KPH): |  4.6 Seconds |
| Base Price: | $43,650 |
The Exterior – 2018 Audi S3: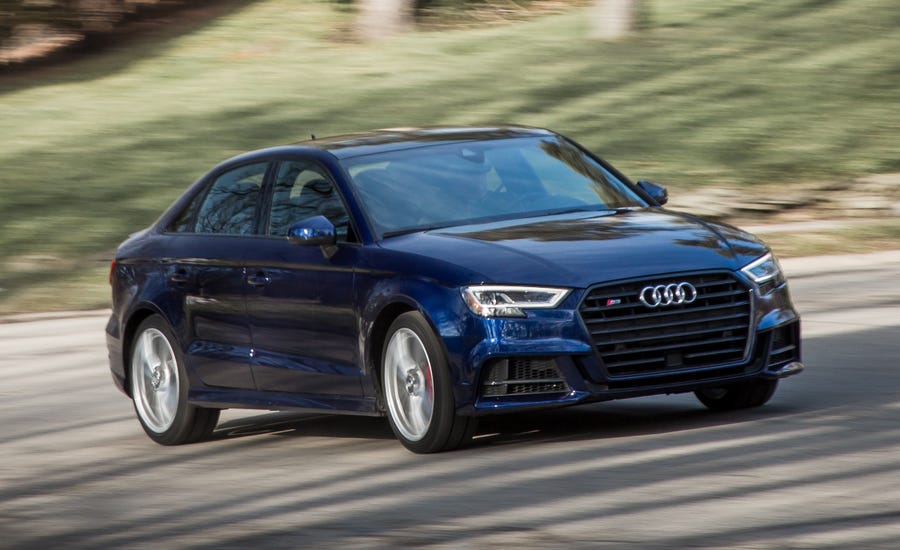 There are two schools of thought when it comes to Audi's styling for their cars.
On one hand, you can say that literally all Audi's look exactly the same.  And with a crucial eye, you'd totally be right.
On the other hand, you could say that Audi's are very sharp cars (and you'd be right) and the reason they all look similar is because it's a working formula that works exceptionally well across the entire line.  And you might be right there, too.
Personally I kind of blame the cooperate culture of Volkswagen for the rather dull designs at Audi.  Even though I do actually love the language they use with creasing lines and sharp edges that make for a perfectly chiseled face.
To each his own though.  I'd like to see more variation and creativity but I guess if it's not broken there's no need to fix it.
Anyway, the Audi A3 and S3 look very, very similar.  That's also a trademark of Audi.
In Audi's range, the standard models and the "S" models are styled similar and only really have different exhaust tips or a new rear diffuser.
Now things are different with the RS models.  RS models from Audi are just nuts and rightfully so.
Anyway, the A3 and the S3 is a perfect example of this kind of styling.
From the front it's tough to distinguish the car from nearly every other Audi.
It's sharp, has a large and imposing grille and two large secondary air intakes with angular LED headlights.
It's a bony look with nice muscles to compliment.  Again, every Audi looks like this.
The small size of the 2018 Audi S3 really shows from the side.  It's hard to hide a little car from this view.
Audi does a great job here though.  The slashes and creases in the body work keep things interesting through the whole side of the car.  Well done.
The car sits low on its tires and that looks very good.
Obviously it's small, but it's stylish.
The rear end of the car is probably my favorite part of it.
The quad exhaust tips are a very nice touch to the assertive rear diffuser.  This is something that Audi does a lot on their S line cars, but it works every time.  The tasteful add-ons work very well on the 2018 Audi S3.
Overall the car is a great looking small machine.  While there's obviously not a ton of space in the inside of the 2018 Audi S3, Audi did a great job hiding the smaller size and retaining the Audi brand styling.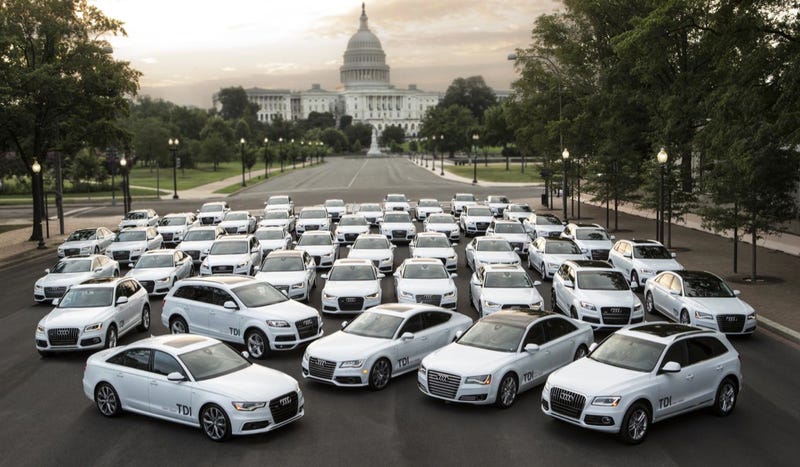 The Interior – 2018 Audi S3:
With upper-scale Audi's, the interior is never an issue for me.  But I can't say the same for the A3 or even the S3.
In Mercedes-Benz' case with the CLA, the car still feels and looks very stylish and very Mercedes on the inside.  With the 2 Series BMW (even though its considerably smaller than all of their other offerings) you can still tell it's a BMW.   Even being as sporty and small as it is.
With the A3, the inside just looks…cheap.  Dull.  boring.
It's straight forward and all that good conservative stuff, but there is no special-ness to the inside of the S3.
I do give credit to whoever designed the steering wheel ergonomics and the S-Line seats, though.  They're not only very comfortable and functional but look fantastic.
That's pretty much it though.
The interior of the S3 is very simply laid out.  Air vents, infotainment screen, air conditioning.  Just kind of tacked in there.
The infotainment screen does raise up and down which is kind of cool, but there is seriously nothing special about the design of the interior.
I guess if you're into that sort of thing that's fine, but I can't believe how dull it is in there.
I think I'm in the minority, but if I was getting a compact luxury car I'd look elsewhere.  Yes it's insanely fast but I'd like at least some creature comfort in there.
One thing I'm happy to see is Audi's use of their in-cluster navigation.  I think that incorporating navigation into the instrument cluster in front of the driver is a very impressive technology that not only looks cool but is very convenient.
The Performance – 2018 Audi S3:
The performance above all is the strongest case for snagging up an Audi S3.  It's tiny, light and features a lot of power.  A perfect combination for a zero to sixty sprint below 5 seconds.
The power behind the S3 is from a 2.0 L four cylinder engine with a turbocharger strapped to its neck.  This unit is good for just below 300 HP (!).
Even with the performance tuned engine, you can still get nearly 30 MPG on the highway which isn't bad at all.
Torque is just about the same as the horse power number.  Just at 280 pound feet.
Once you couple that immensely powerful plant to a DSG transmission with lightning-fast shifting and a body for a total weight of around 3,500 pounds and Audi's Quattro AWD system, you get insane numbers.
While 3,500 pounds seems a bit on the heavy side, but the drive doesn't seem that way at all.
The steering is a bit too light, but every aspect of the car makes up for that small shortcoming.
The issue with the S3 is that is mechanically the same as the Golf R; Which is cheaper and even quicker.
And more practical.
The Golf R that the S3 is based on can do 0-60 in 4.5 seconds which really isn't that much quicker, but still.
Pricing wise, the S3 is $43,000 while the Golf R fully loaded is $42,000.  Not sure how much more worth it.
Even though it's fast as hell, the S3 doesn't even justify itself under its own brand umbrella.  I assume people like the "Audi" nameplate.
The performance of the car is certainly strong.  It's very quick by any measure, but the VW is just quicker and cheaper.  That's why we don't see many S3's on the road.
I guess VW as a cooperation decided to squeeze as much as they could money wise out of the platform.  Kinda sad but I guess it makes sense.
Sum it Up:
The A3 and S3 kind of feel like their only purpose is to continue to sell the Golf's platform with a bloated price tag.  The whole VW group has this kind of issue.
It's a balance between corporate profit and good, enthusiast-style practices as a car manufacture.  But, VW is making a TON of money off of sharing platforms.  Even though I dislike the practice, nearly every big brand umbrella does that.
That's where the S3 falls.  Why spend more for a car when there is one that is more practical, quicker, cheaper and literally the same car underneath?